WORKING WITH STUDIO PINAR&VIOLA

Since May 2019 I've had the pleasure of working for the inspiring design studio Pinar&Viola. They create highly aesthetic images for the zeitgeist, specializing in graphics, fashion, and technology. They regularly collaborate with the world's leading brands to make their products relevant and fun for popular culture like Google, IKEA, Adidas, Nike, MTV, Redbull, and more.

Here are select projects I've worked on with them...
---
Kings of the NBA

Directed by Pinar. Drafts of basketball players as mystical, royal, and almost god-like figures. Glossy, highly digital aesthetic. See process and inspiration images below.
---
---
Fashion label
Ganni
asked Pinar&Viola to use their Infinite Patterns on the catwalk during Copenhagen Fashion Week. I animated a video that is infinitely scrolling and infinitely morphing; displayed in a TV screen installation.
---
---
Google Mockups
P&V recently collaborated with Google's Deep Dream A.I. to develop a series of
patterns and compositions.
Here are a few of the concepts I made for Pinar&Viola's next fashion collection to be presented to Google.
---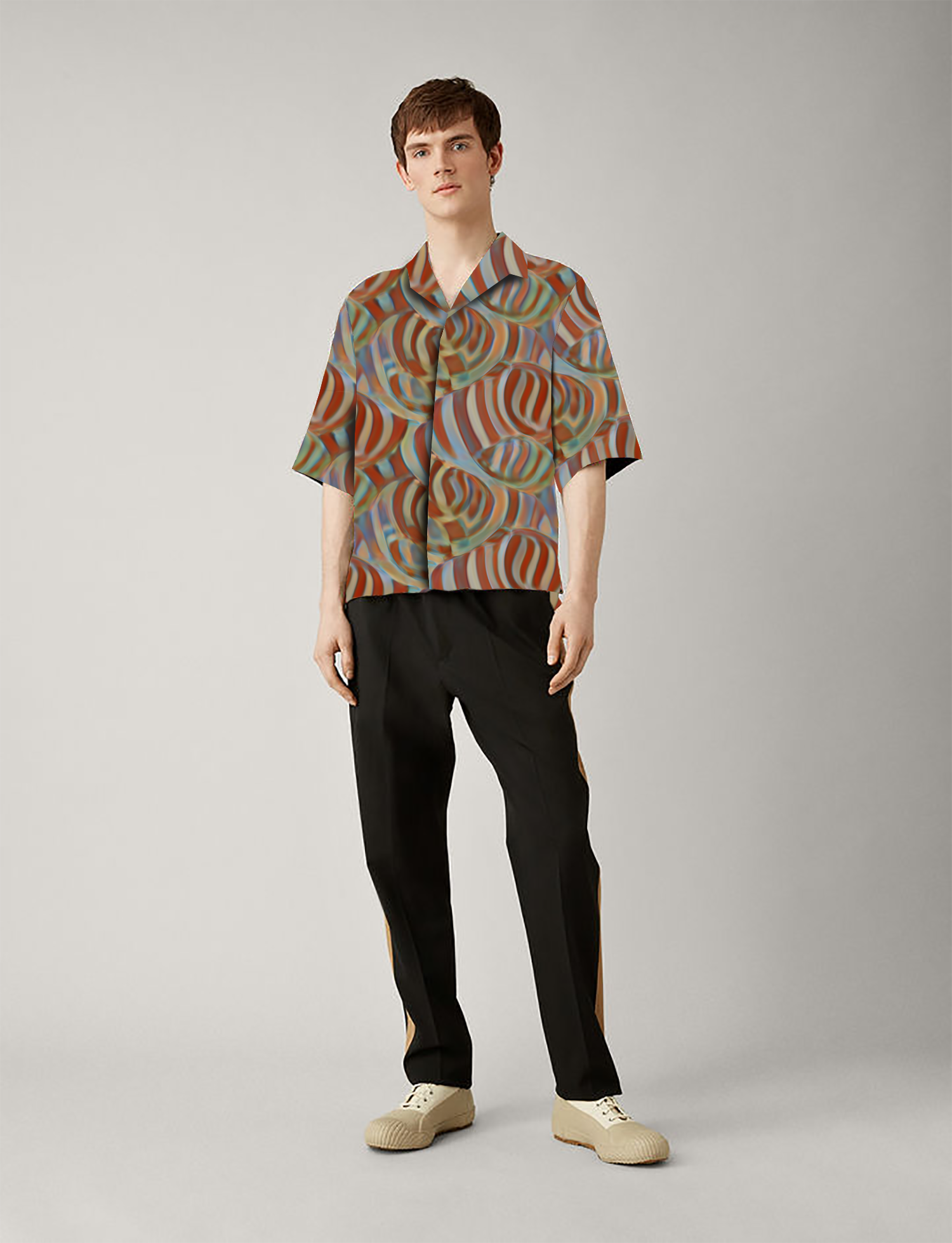 ---
Website Redesign
Pinar&Viola asked me to create a brand new site to rejuvenate their brand. I built this site with about 30% HTML/CSS and 70% Cargo (blank template). Site is still undergoing revisions and is not live yet.
---
Previous Site

The previous P&V website was a bit confusing to navigate with flawed layout. When scrolling through projects, there were huge gaps between vertical-shaped thumbnails, and within project pages the text was too small and lengthy.

New Site
The goals for the new site were to simplify navigation and create a clean, crisp layout to display each project. So, rather than continue with an unclear top navigation bar, we split the site into two completely different areas: The Artist Duo and the Design Studio. Each side has it's own layout and home page, making a clear distinction between the types of projects P&V do. The Artist Duo side serves as a simple gallery, while the Design Studio presents projects more in-depth like case studies.
---
Crystals and Symbols

Under Viola's direction, I made a series of symbols for upcoming projects. The composition below is my own, displaying a portion of the elements I fashioned.
---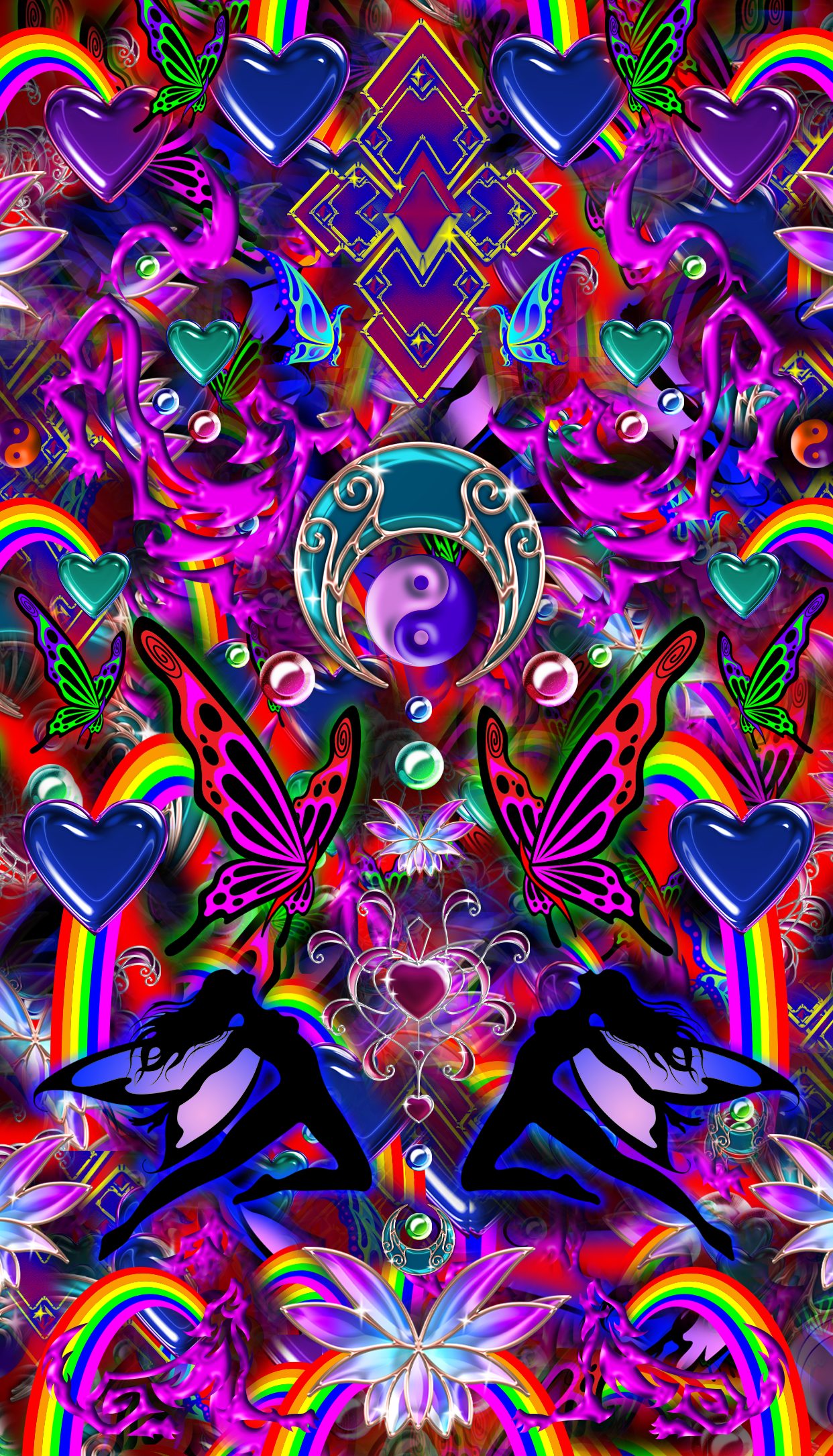 ---
Peace Rover Stickers
A small token of appreciation from Pinar&Viola to those that drive Land Rover Defenders.
---
JERSEY GIRL FESTIVAL
A concept for a local art and music festival celebrating all things New Jersey women and girls. It's difficult to define a Jersey Girl; while most of the country may hear the phrase and think of Snooki and the gang (non-Jersey natives, by the way), others may reminisce the romanticized shore girls that Bruce Springsteen sang of. This festival does not try to define the Jersey Girl, as she is whatever the hell she wants. Instead, the Jersey Girl Festival aims to bring locals together to Asbury Park, a classic beach town, to support womxn artists, musicians, and businesses. Local music and art are defining features of the Jersey Shore, though men often dominate the scene. At this festival, however, absolutely everyone is welcome to enjoy a good ol' Jersey time.

---
New Jersey Flag ︎
Color scheme inspiration
---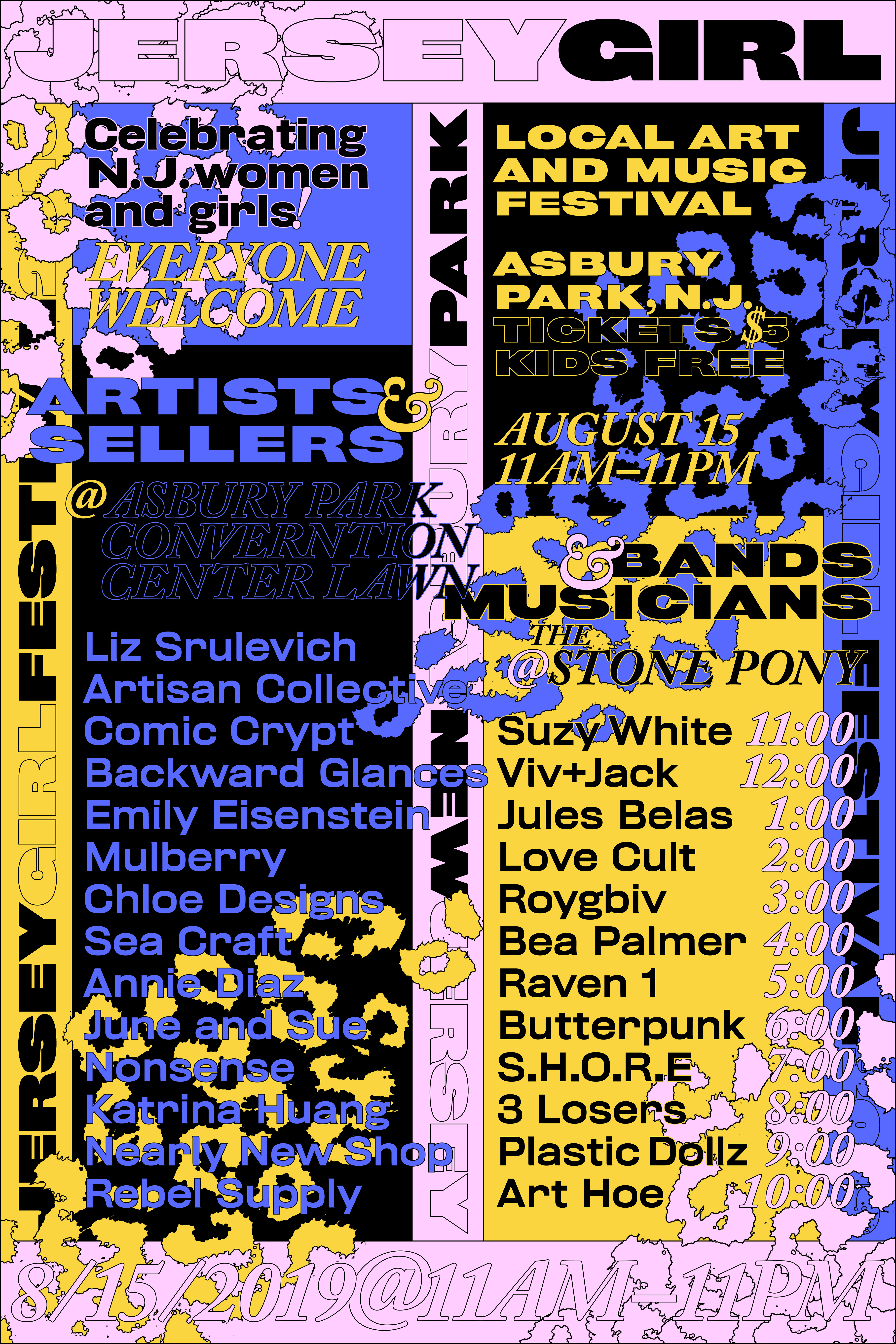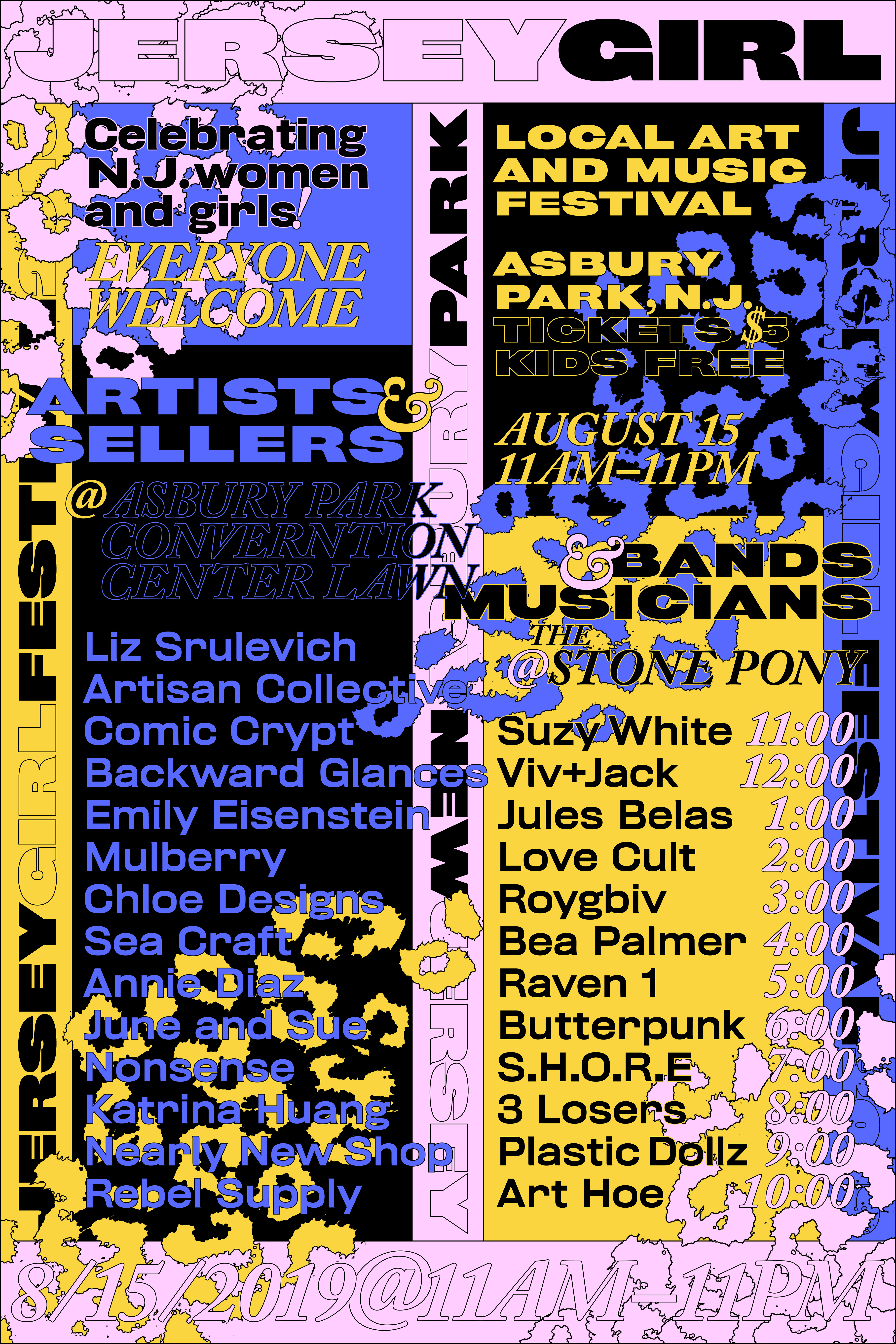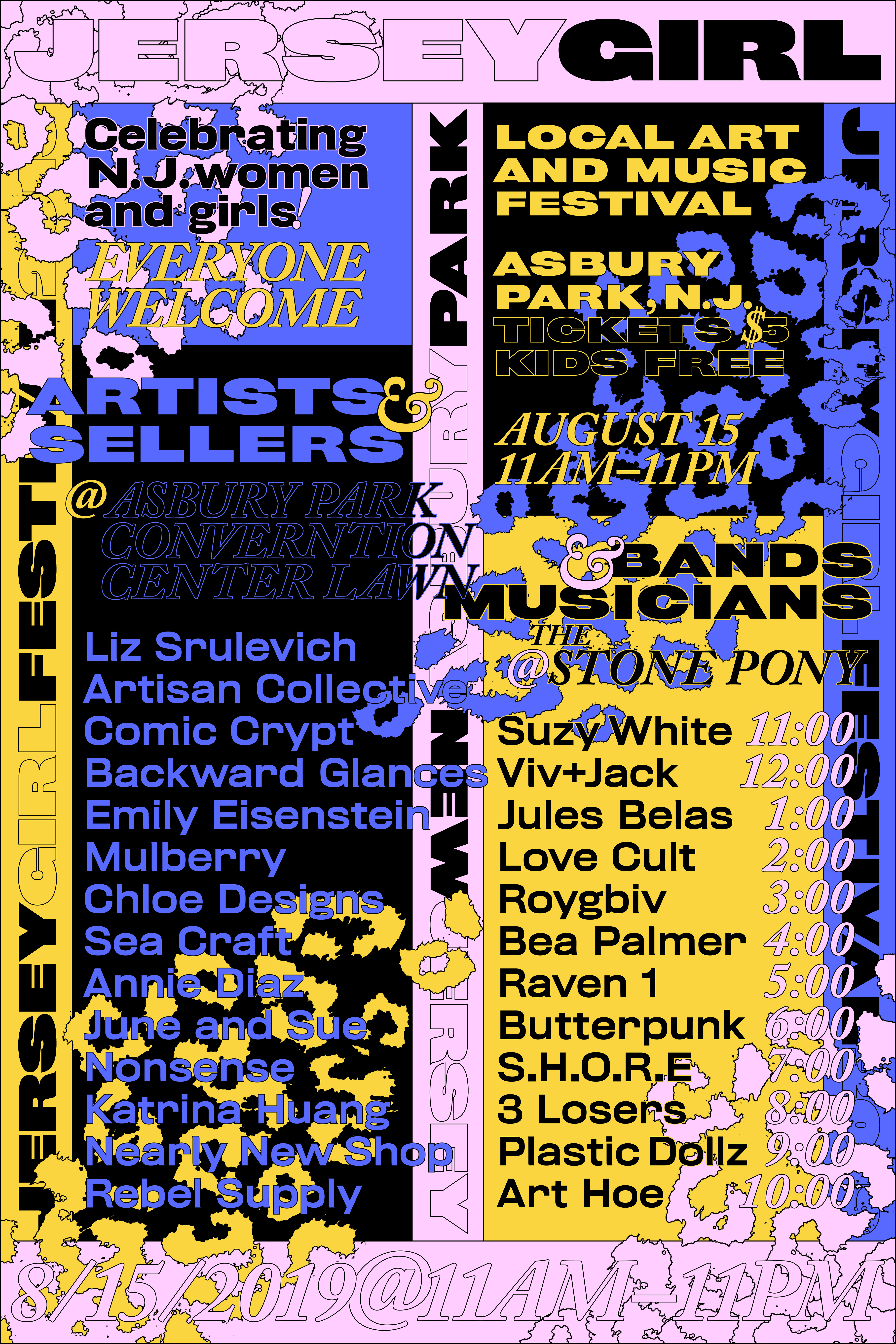 Bumper Stickers:
Face Filters & Mobile Program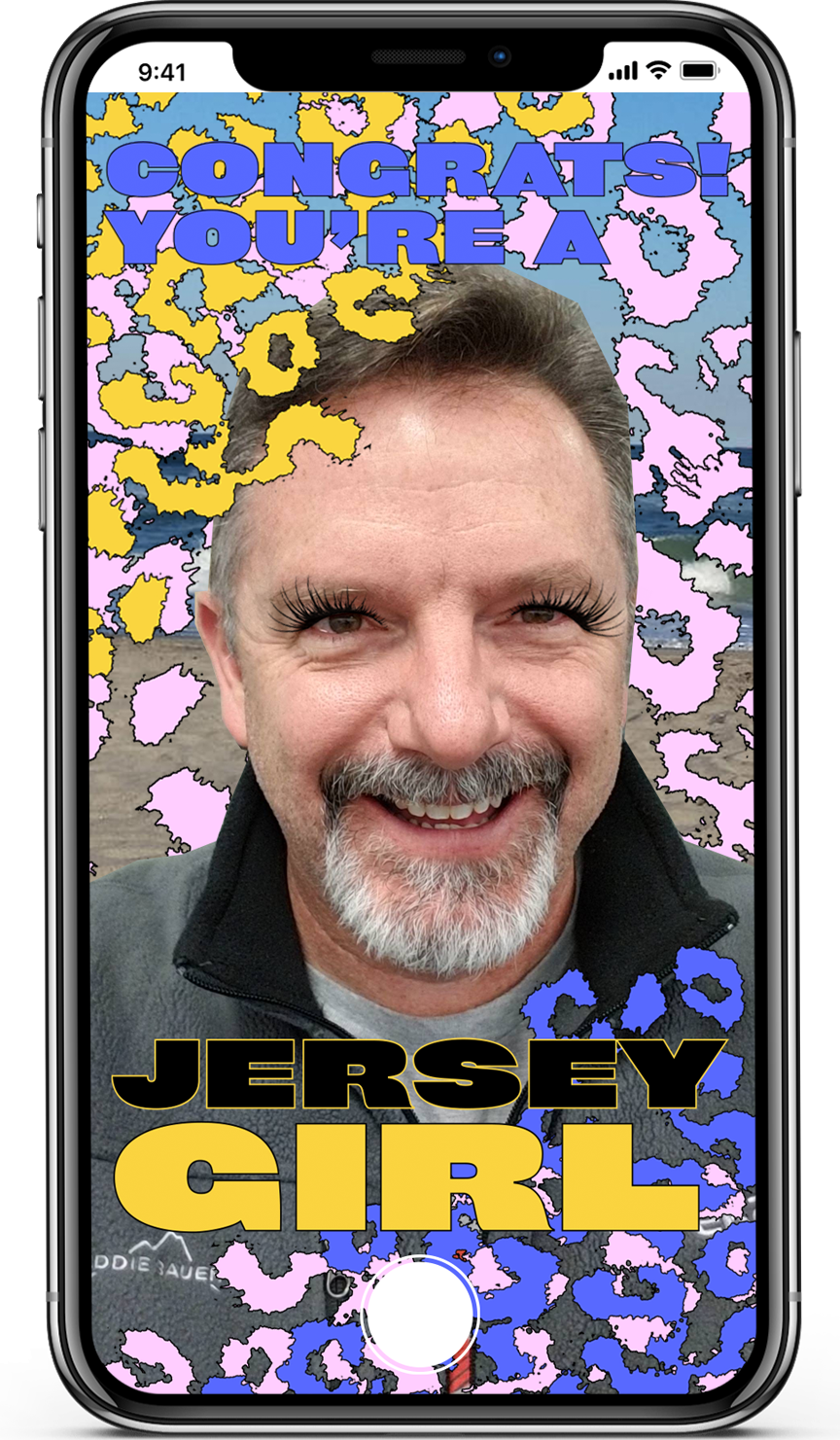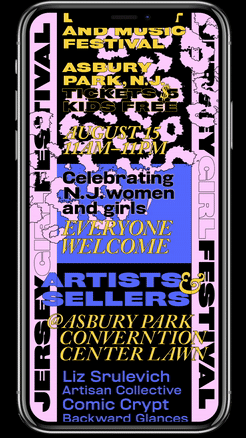 Official Duffel Bag:
Style Guide: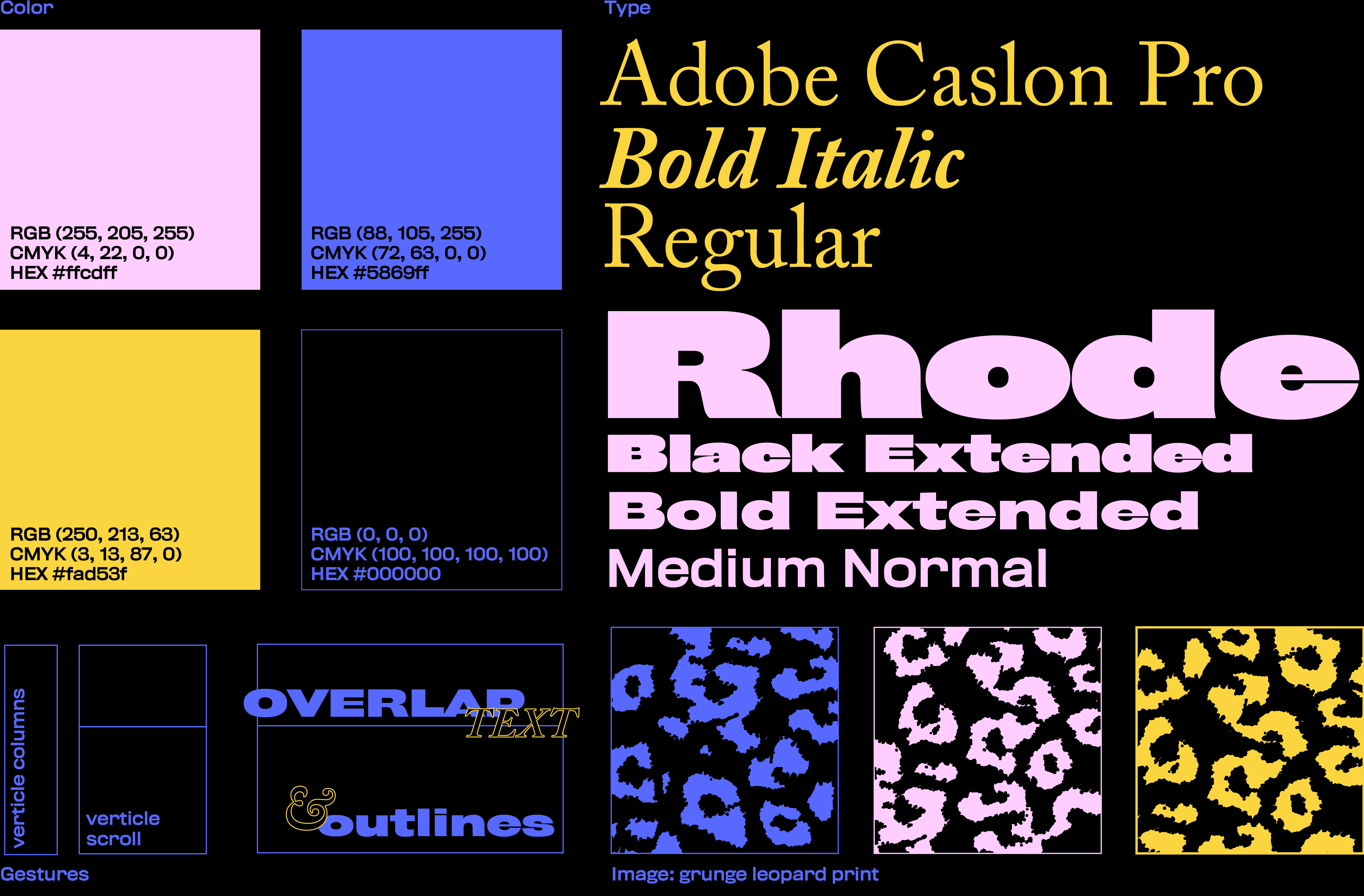 ---
︎ New Jersey's only female governor Christine Todd Whitman gives memorial day speech outside the Stone Pony in 2000. The Stone Pony is a famous Asbury Park bar and music venue right across from the beach. It's where Bruce Springsteen and others got their start.
---
Women in New Jersey Government: A Pocket Index
The perfect vanity piece for any Jersey Girl. A complimentary festival book given to all attendees. An index that gives love to some underappreciated, kickass Jersey women, using data from Rutgers' Center for American Women and Politics. Below are a few spreads from the 40 page booklet...
---
CYBER/CAX REVIVAL
Based on a 1482 specimen from William Caxton, I revived an out-of-print typeface as if it were from 1982.

In the early days of the printing press, type designers like Caxton crafted each letter to appear jotted by a human hand. I was charmed by this particular specimen's purposeful imperfections setting it apart from the sharp-edged blackletter popular today. My challenge, however, was to maintain this spirit while "modernizing" it into a functional digital font.

Five hundred years after the Caxton specimen was the year 1982. Existing within the "Golden Age of Video Games", '82 is specifically cited as the peak of arcade games with home consoles on the rise. This was also the early period of personal computers. In other words, we were now living in the Digital Age.


---


Digital Type Specimen: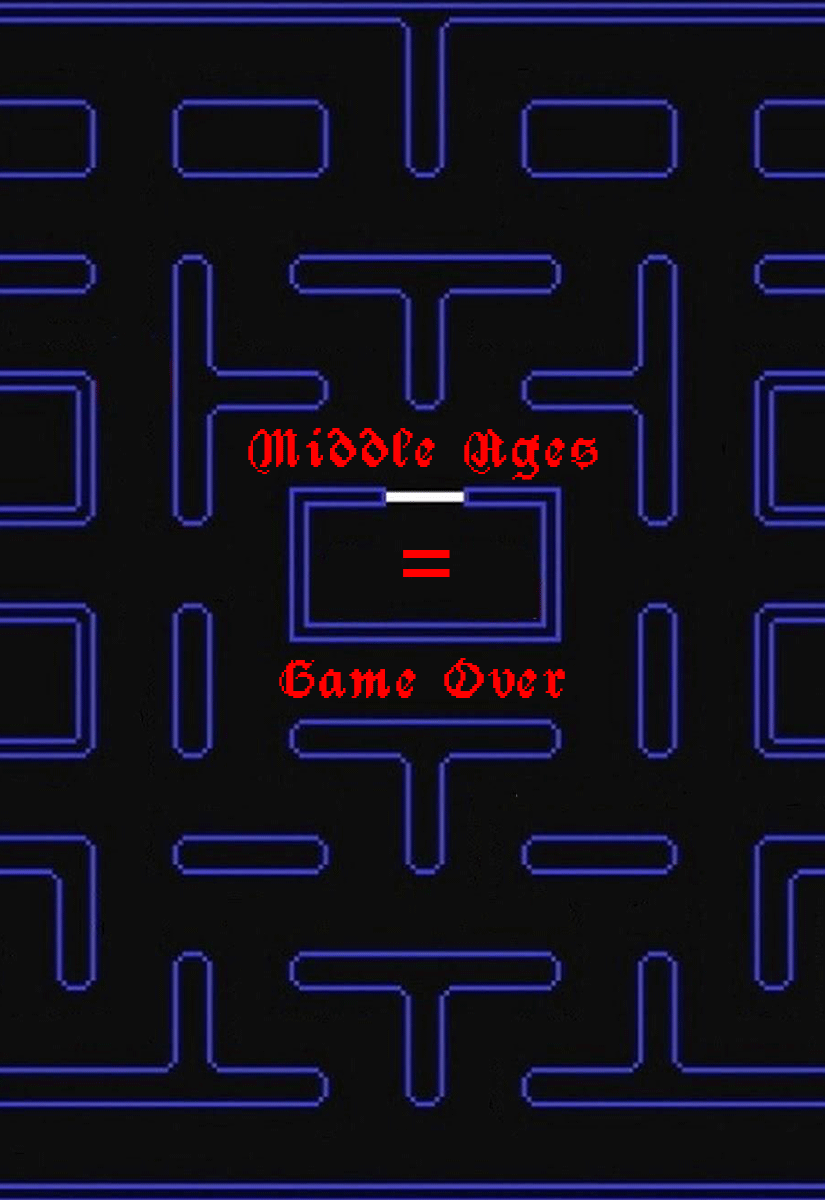 Spreads from the Cyber/Cax Catalog:



Research/Process:

1482 ︎ 1982
The European Middle Ages officially ended in 1453, and the Renaissance had been making it's first strides a century prior. The Renaissance served as a bridge to the Age of Enlightenment which, to oversimplify, eventually led us to the modern age. As I prepared myself to digitize this blackletter type, I knew I wanted the result to hold conceptual value in addition to aesthetic. I wondered when in recent history we were in a period of transition similar to that of the Renaissance...
To the right are four TIME Magazine covers from 1982, all concerning the Digital Age. In fact, the 1982 "Man of the Year" was changed to the "Machine of the Year" to honor the personal computer.

I decided that rather than modernize this antiquated typeface, I would retro-ize it by drawing inspirating from the 8-bit style that defined early arcade games.

At first glance, combining bulky pixels and an imperfect blackletter alphabet seemed like forcing together opposites. However, both type styles served as first iterations within their new medium of communications, mechanized processes attempting to simplify how type reached the viewer.

Pixel type is usually synonymous with digital, which is then associated with function and cleanliness. Meanwhile, blackletter type is ornamental calligraphy. My revival, "Cyber/cax", rejects any of these assumptions. It is minimal and ornamental, while caring little for functionality.

This was not for a type design class: the goal was not to spend months perfecting a typeface. That being said, once I was satisfied with the form, I directed my attention to creating a series of my own type specimen. My branding of Cyber/cax followed strict rules to only use content and visuals relating to the year 1982.

Pole Position (1982)
Namco, Atari

WHAT WE SEE WHEN WE READ
BY PETER MENDELSUND
A hand-stitched hardcover book, printed on grey paper. In the source text, Mendelsund discusses the way we visually interpret literature in our minds. To represent this, I chose a blank rainbow arch as the main repeated element. While a book can provide us with a structure that guides "what we see when we read", the true image we form is our own. In the same sense, the blank rainbow is not a rainbow at all, it is the suggestion of a rainbow that the viewer may fill in themself (hence, the atypical coloring of rainbow on the cover). Every individual page and chapter head is unique and relevant to to the text. Below are some of my favorite spreads.


---
RAINBOW SKIES
A visual system investigating color, shape, and irony.
---